KYP Project on their first field trip to Canada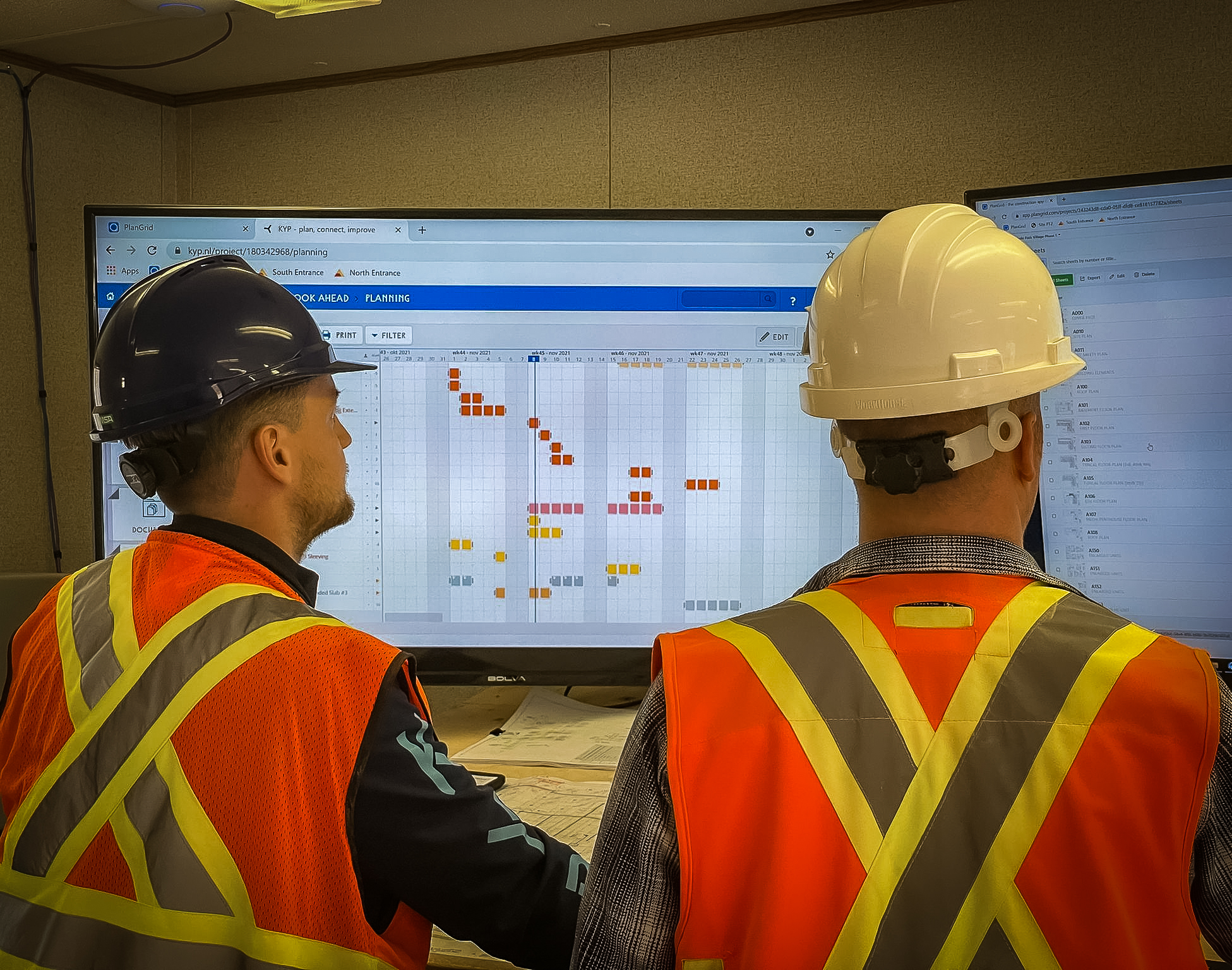 After months of research, Zoom meetings, lots of calls and e-mails, KYP'er Sander Ruissaard and Bas Roestenberg finally made it to Canada last November. Goal of the field trip: Explore the Canadian construction industry, build relationships, and of course have the first Canadian construction builders KYPing. In this blog we are going through the some of their highlights.


Week 1
Once arrived in Toronto, Sander and Bas looked their eyes out. Apart from the jetleg, it was a world of difference from the lowlands. The cars are gigantic, the roads extremely long and straight, and fast food is a daily menu (but that's mainly because of their poor kitchen skills). What immediately struck was how warm the welcome was and the genuine interest of the Torontonians.
Now the serious stuff. First stop: Fortis Construction Group, one of the larger construction companies in Canada. Sander and Bas visited the London office and went by several projects where they gave training and held a Q&A for its project teams who are piloting KYP at the moment.
After a lunch with Fortis' interim director Alfonso Balassone and our partner Thomas Strong the men drove to the Fortis Windsor office. Several projects were visited such as Hyde Park Village where they are building over 250 apartments.
Our partner Thomas Strong is of great value for KYP Project and he made us several introductions to General Contractors. Also, through our partnership with CanBIM, Sander and Bas were able to enjoy a casual dinner with several delegates from PCL, Chandos, Pomerleau and Maple Reinders, among others. Later during the trip in Canada, Sander was also invited to the office to further explain KYP Project.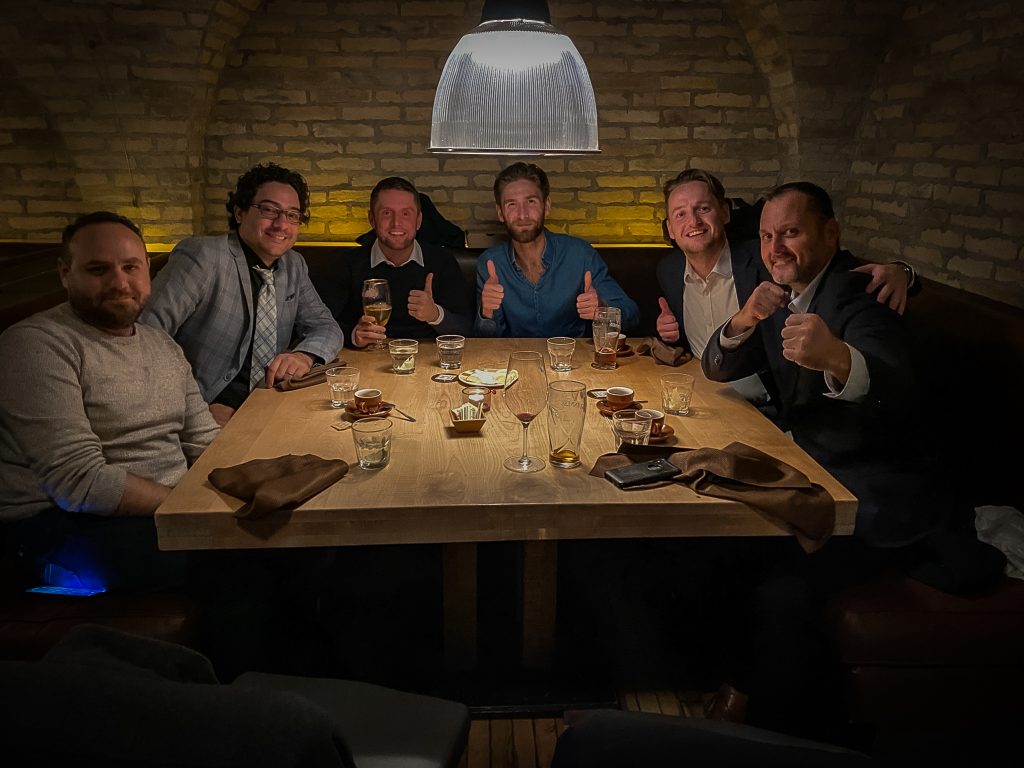 The week ended with an invitation to the EllisDon office in Mississauga. A successful demo was given, and plans were made to start several pilots using KYP Project on their projects in 2022.
To end the week in style, the gentlemen dined on the 54th floor at the Canoe restaurant. While you're in Toronto….
Weekend! Time to explore the region. Before Bas flew back to The Netherlands, the men visited Niagara Falls and the Bass Pro Shop (the Walhalla for hunters and fishermen).


Week 2
On Monday, Sander was invited to the Consulate General of the Netherlands in Toronto. The Consulate mainly focuses on creating trade between Dutch and Canadian companies.  Of course, Sander dropped by for a cup of coffee and a good conversation with Harman Idema and Marjan Lahuis.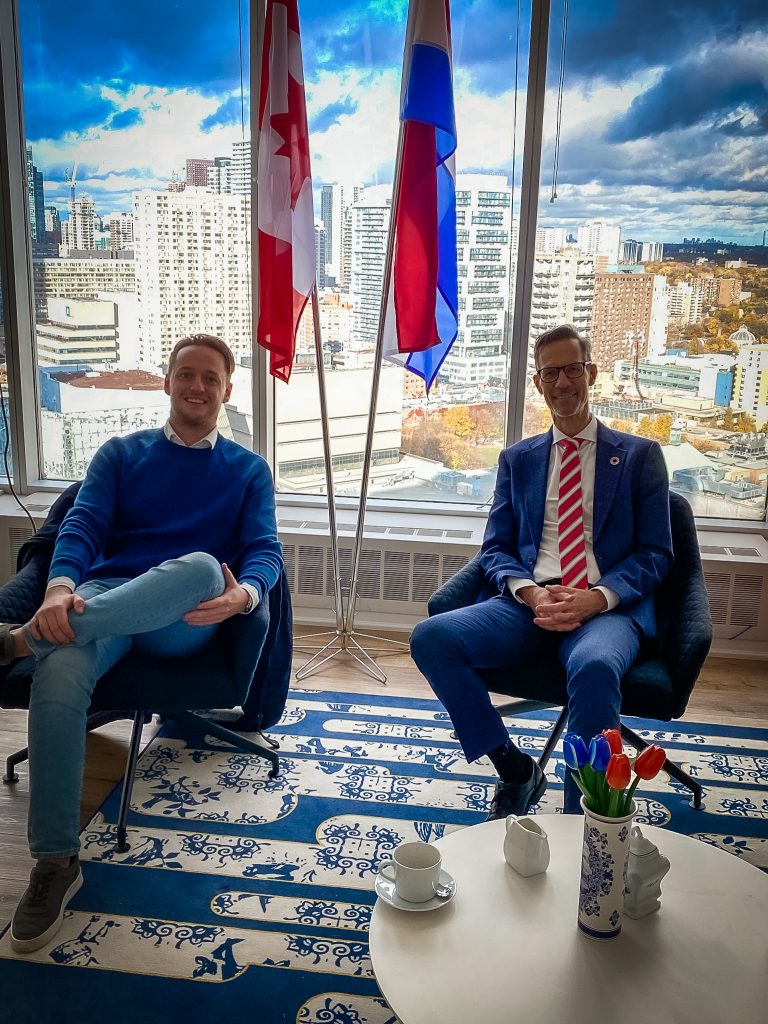 To further broaden our knowledge and network, Sander engaged with TCA-Connect (Toronto Construction Association-connect). TCA-Connect is one of the largest associations in Canada with 1800 construction-oriented companies affiliated. The association provides member with training, networking events and knowledge. Sharing knowledge is what we like to do at KYP, and therefor Sander gave a "Lunch& Learn" webinar for all interested TCA-members in the third week that was all about giving an introduction to Better Communication & Scheduling for Construction.
The second week ended with a meeting at the Pomerleau Toronto office. It was incredibly exciting to sit down with members of the innovation team of a construction company that is seen as a pioneer in terms of digitalization and innovation.
A great week like this had to be wrapped up in a Canadian way: Who of you has been in the Real Sports Bar? Sander certainly has now.


Week 3
Week 3, the final one.  Sander was invited to the recently opened PCL office in Oakville, Ontario. After a good talk in the boardroom with John Boktor, Sander went by a project in Vaughan later that week where Jeremy Rock was waiting to show him how they build and plan at PCL. Also there was time to discuss how to get started with KYP Project in 2022, as Jeremy was very much looking forward to that.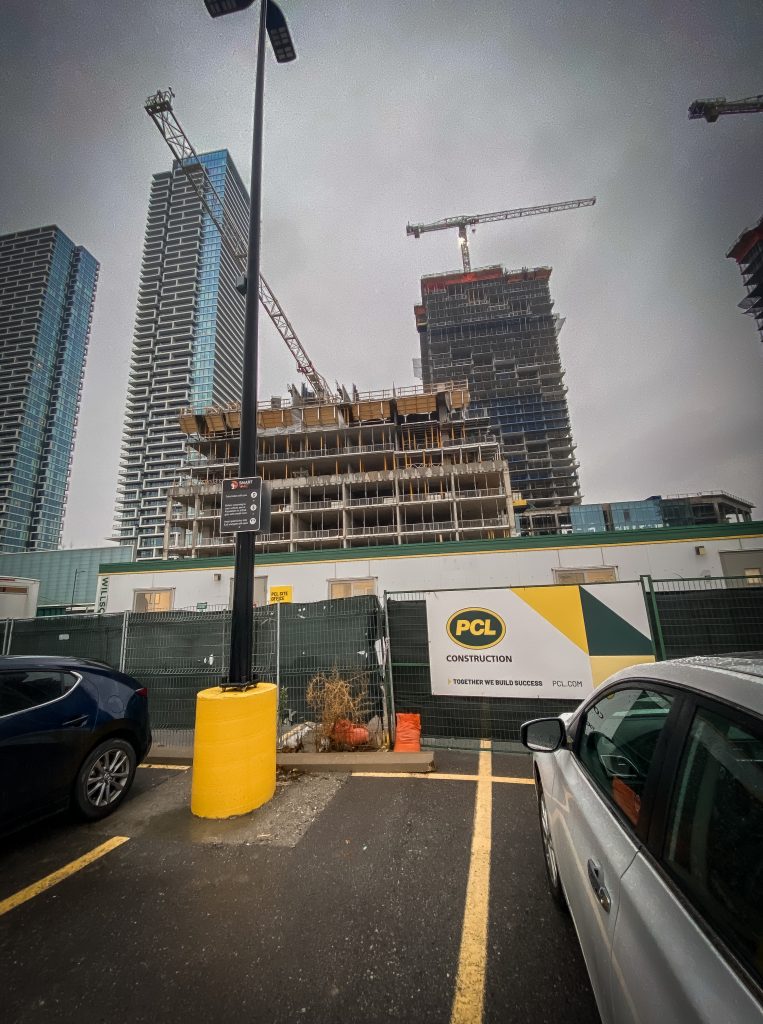 Thanks to Erich Schmidt, Sander was able to give a presentation to the innovation committee of the OGCA (Ontario General Construction Association). More than 200 General Contractors within Ontario are affiliated and with that, the OGCA represents the largest portfolio of projects than any other association in Canada. Thanks for this opportunity, Erich! We are thrilled to see that so many of the OGCA members are interested to know more about our product.
To recap. If we learned anything during our trip, it is that the Canadian construction industry differs little from builders in the Netherlands. At 90% of the construction sites, Excel is still used as the main planning tool and communication regarding planning still takes place by phone and email. As you probably already knew, KYP Project offers the ideal replacement for this. We were therefore pleased to see that the builders we spoke to are open to this and are eager to start work at short notice. We are already looking forward to the next trip!